Commercial Moving Service
Get back to business
quicker
MAKING YOUR MOVE SIMPLE AND HASSLE-FREE
In today's fast-paced corporate environment, the need for expert commercial moving services has never been greater. Whether your office relocation is local or cross-country, hiring the right commercial moving company is critical to a smooth transition.
Introducing Nobility Movers
At Nobility Movers, we understand the unique complexities and requirements of commercial moves. Our team of seasoned professionals is completely dedicated to providing tailored, top-tier services that are tailored to the specific needs of your business. As the distinguished purveyor of commercial moving services in the picturesque locales of Whitebridge, NSW, we take profound pride in our unwavering commitment to superlative quality.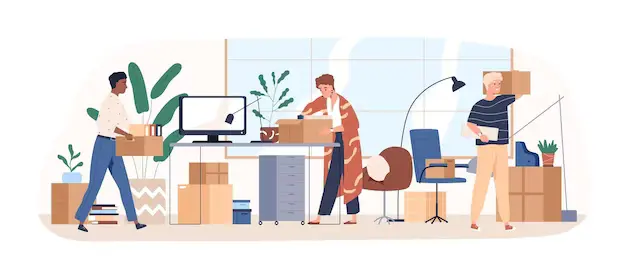 Our Comprehensive Services
When you collaborate with Nobility Movers, you gain access to an extensive repertoire of commercial moving solutions. Our offerings encompass:
Local Commercial Moves: We stand as your dependable local commercial moving company, dedicated to ensuring a seamless transition for your enterprise.
Interstate Moving: Should your ambitions span across state lines, our interstate moving service is meticulously orchestrated to transport your business anywhere within the expanse of Australia.
Eco-Conscious Practices: In our pursuit of excellence, we diligently prioritize eco-friendly moving practices, orchestrating your move with reduced environmental impact while upholding unmatched service standards.Peruse this invaluable, comprehensive guide offering insights on preparing for your office move within the Australian landscape
Ready to embark on your hassle-free commercial move?
Trust the experts at Nobility Movers to make your transition smooth and efficient. Our local expertise, professional team, and safety-focused approach set us apart as the ideal choice for your move. To schedule your move and embark on a seamless transition to your new home.
What Sets Nobility Movers Apart?
What distinguishes Nobility Movers from the milieu of commercial moving companies? It is our steadfast commitment to customer satisfaction, scrupulous attention to the minute details, and unrelenting dedication to making your transition utterly stress-free. Our proficient cadre is adept at handling even the most intricate commercial moves, ensuring a transition characterized by precision and care.
Unleashing Our Expertise
Unearth the remarkable capabilities of our Interstate Moving Service and Residential Moving Services to gain deeper insights into our long-distance relocation prowess.
Dive into these indispensable eco-conscious moving tips aimed at mitigating your ecological footprint throughout your office move.
Your Trusted Commercial Moving Partner
In the realm of commercial moving services, Nobility Movers stands as your unwavering ally. Our steadfast commitment to excellence, fervent embrace of eco-conscious practices, and unwavering focus on exceeding customer expectations render us the definitive choice for your corporate relocation requirements.
Our team are trained experts in commercial moves and relocations. Tailored to the needs of your company, our business relocation manager will organise exactly what you need, and keep you informed throughout the process, as we understand it is important to minimise downtime.
We can offer our packing specialist team, cleaning services, furniture and document disposal, and help re-building your new office space so that come Monday, business will be ready to go as usual.
No matter how big or small your move, our team is here to help.
Although our local Newcastle company is new, our team have been in the moving, transport and logistics business for many years. Our removalists are trained and efficient, with all the right tools, guaranteed to make your moving day as smooth as possible. 
Our core values are that we aim to provide a service that is professional and friendly, with a team that is committed and experienced.
Find out more about us. 
Van + Choice of One or Two Removalists
* Weekend Rates: $75 per 1/2 Hour + GST

Recommended: For small box moves, storage transfers, furniture pick-up or deliveries, art or fragile items.

Volume: Approximately 7 Cubic Metres

Available: Monday - Sunday
4.5 Tonne Truck + Two Removalists
* Weekend Rates: $90 per 1/2 Hour + GST

Recommended: 1 or 2 bedroom apartments. Small or medium sized office spaces.

Volume: Approximately 24 Cubic Metres

Available: Monday - Sunday
4.5 Tonne Truck + Three Removalists
* Weekend Rates: $120 per 1/2 Hour + GST

Recommended: 3+ Bedroom apartments or moves with difficult access. Small or medium sized office spaces.

Volume: Approximately 24 Cubic Metres

Available: Monday - Sunday
WHAT OUR VALUED CUSTOMERS SAY

George Azoury
We were so impressed with the service provided by Nobility Movers with Jonas and his co workers doing a great job. They treat the house and its content as if it was theirs with care and high professionalism. I moved several times over the past few years and this company tops them all. Highly recommended without any doubt. I will use definitely use them again for the next move. Thank you

Vic Mickovski
I recently engaged with Nobility Movers for a short suburb relocation. I could not speak highly enough of the removalists and their professionalism. They arrived on time and surveyed our then location to determine how they would coordinate our move based on our contents some of which were heavy and cumbersome to move not to mention 3 flights of stairs...

Claudia Azoury
Nobility Movers is a quality moving company. They took great care of my belongings. They arrived with the right moving equipment for my furniture, tool box & extra blankets just in case. They made sure my move was as smooth as possible : from giving me a half hour approach call to making sure all my valuable items were properly wrapped, padded and moved securely to prevent breakage...

Julian Halfacree
What an absolute pleasure of a move! I was dreading today! With a pregnant wife and having stayed up till 1am finishing the last few things to pack I thought this was going to be a long day. The Team arrived 8:00am sharp, Immaculate truck, all delicate items wrapped with care, mattress automatically plastic wrapped for protection. Credit to the small business, you have a great group of caring employees who...
E Yuzo
I couldn't choose a better company! They are quick, very carful with everything, no damages at all! Super recommended!
For a non obligation free quote and site assessment for business relocation, our team is here to help.
Ready to move but need to know more? Here are some answers to our frequently asked questions that you need to know.